Digimon Card Game Online European DC-1 Grand Prix
Online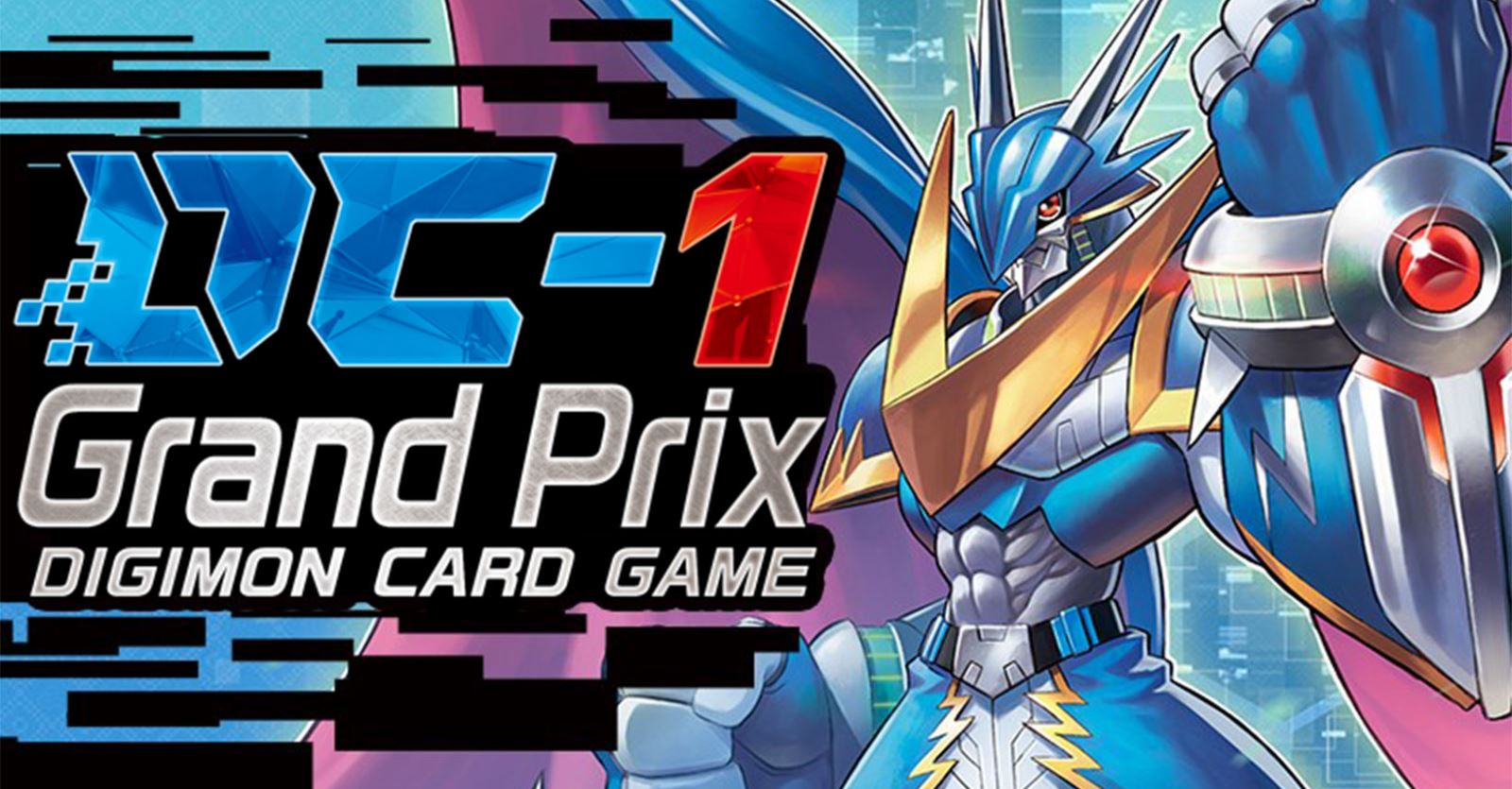 Tournament Registrations will open on Sunday September 12th, at 9:00 a.m. (CET)
Take part in the Digimon Card Game Online DC-1 Grand Prix, a Digimon Card Game Premiere event featuring fantastic exclusive prizes.
Tournament takes place online.
This event is reserved to players resident in Europe, excluding Italy, France and Spain.
To participate in this event, each participant needs:
- a Play ID, in case you don't have a Play ID you may register here;
- a tournament legal Digimon deck;
- a PC connected to the internet;
- a webcam (1080p recommended);
- a Discord account;
- a smartphone connected to the internet with the digimoncard.it app;

Maximum Number of Participants: 256
WEBCAM LAYOUT EXAMPLE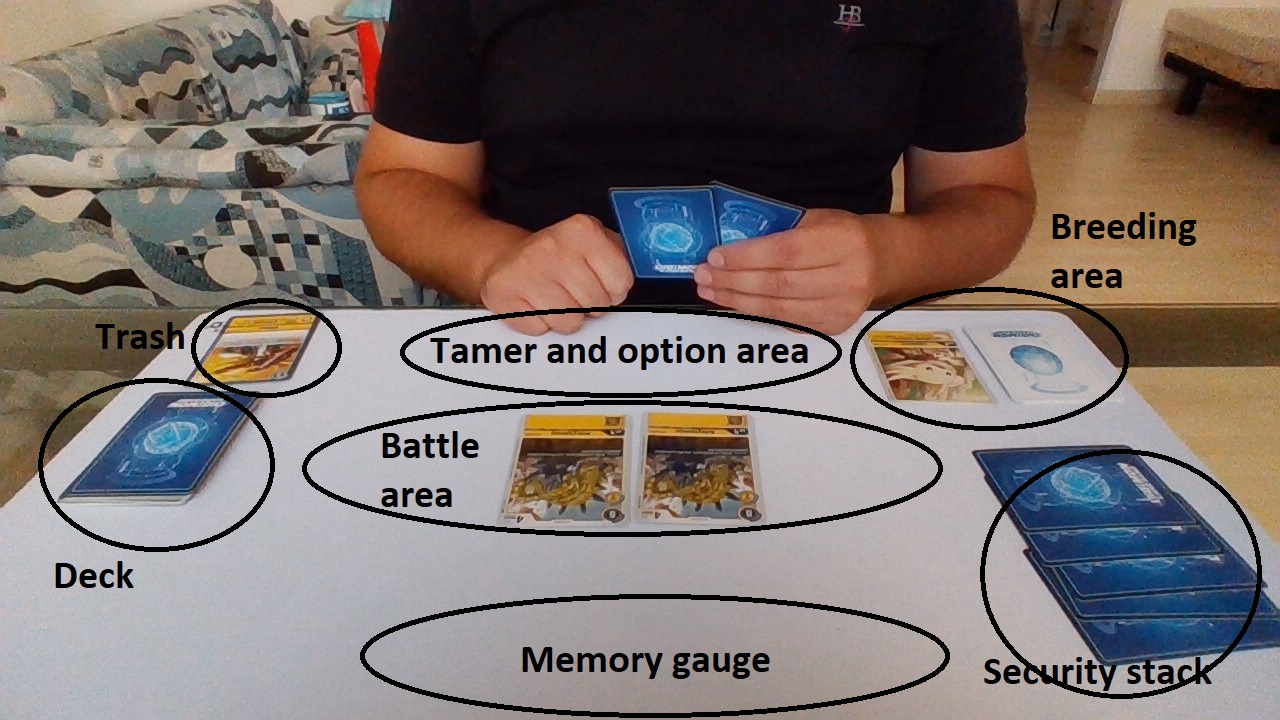 Each participant must transmit their decklist through the digimoncard.it app or via website once logged in with their Play ID, before the event starts.
N.B. Prizes and participation prizes will be shipped only to the address as reported on the Paypal receipt since Tuesday November 2nd.
Therefore you are invited to pay attention at your Paypal shipping address when doing the payment of your participation ticket.
It will be possible to register until Sunday October 24th 00:00 am.
Information and Schedule:
Sunday October 31st, 2021
Player Briefing and Tournament Start
Sunday October 31st 09:30 am >>> Discord Connection and Player Briefing; 10:00 am >>> Tournament Start
You may register online, only via web by purchasing the proper ticket from your digimoncard.it Player Area.
Tournament Structure:
The event is run in Swiss Rounds. The number of Swiss Rounds is based on the number of participants as follows:
65-128 participants >>> 7 Swiss Rounds
129-256 participants >>> 8 Swiss Rounds
There is no Single-Elimination Playoff after the Swiss Rounds.
Each Swiss Round is a best of three games match with a length of 50 minutes.
Entry Fee:
- Basic Registration: 55,00 euro (Includes 1 Special Ulforceveedramon Playmat, 1 Pack of 50 Special Artwork Sleeves, 4 Veemon Promo DC-1 logo e 4 The Ray of Victory Promo DC-1 logo)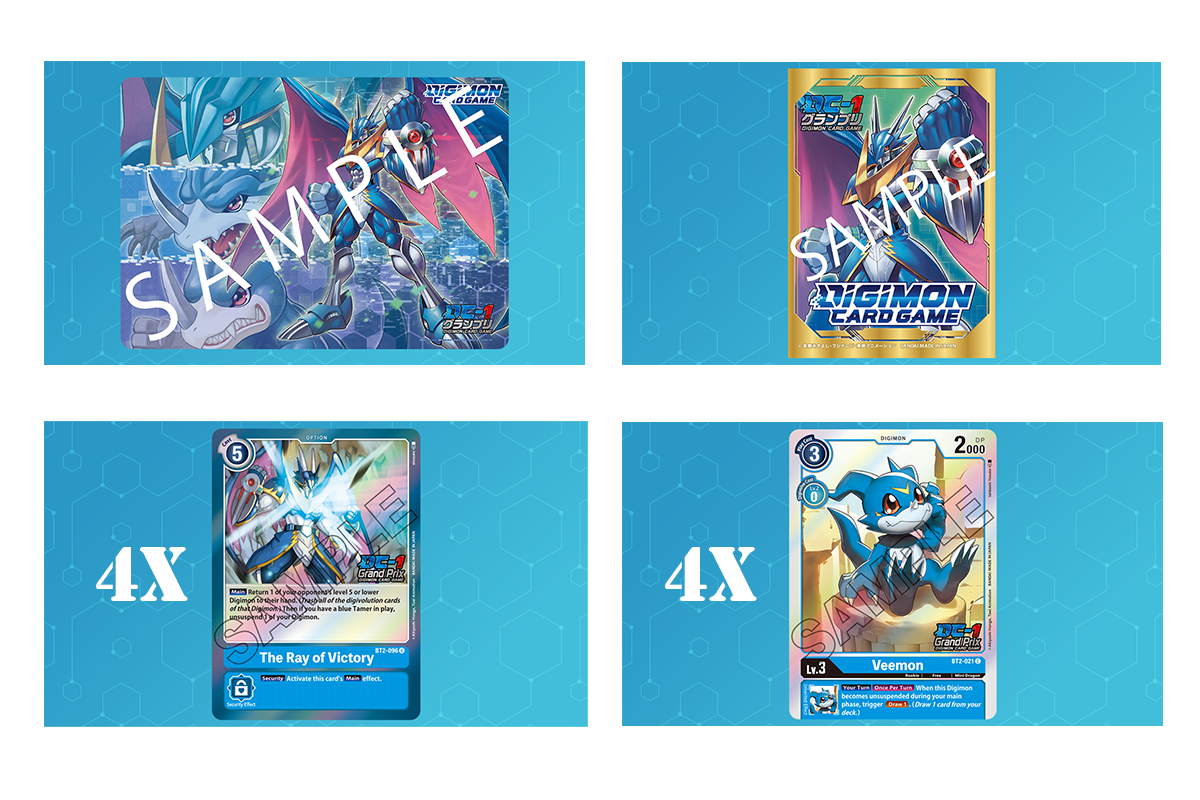 - VIP Registration: 95,00 euro (Includes 1 Special Imperialdramon Dragon Mode Playmat, 1 Pack of 50 Sleeves Imperialdramon Dragon Mode Sleeves, 1 Special Ulforceveedramon Playmat, 1 Pack of 50 Special Artwork Sleeves, 4 Veemon Promo DC-1 logo e 4 The Ray of Victory Promo DC-1 logo)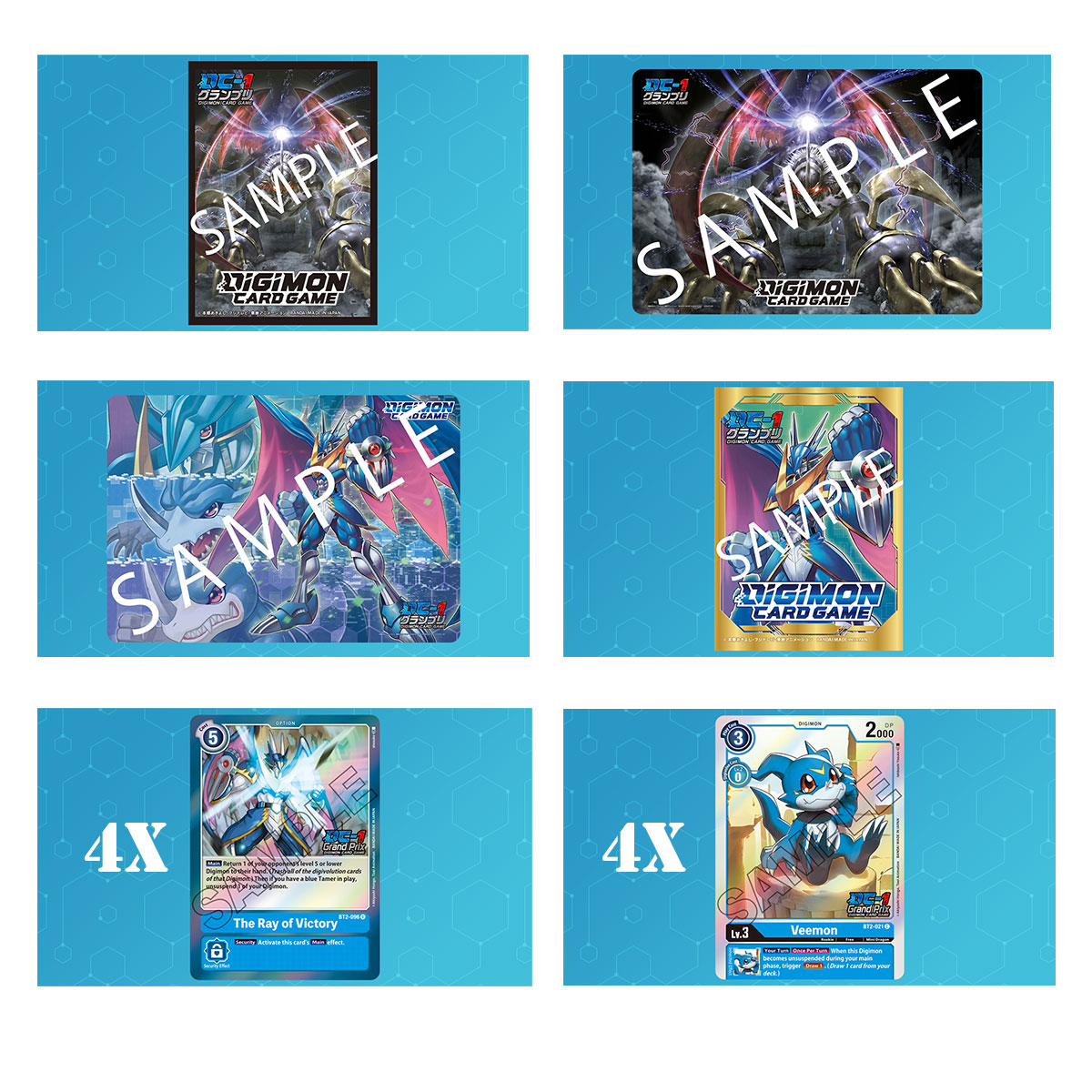 Prizes:
33rd-64th Place: 1 Veedramon DC-1 logo Promo Card each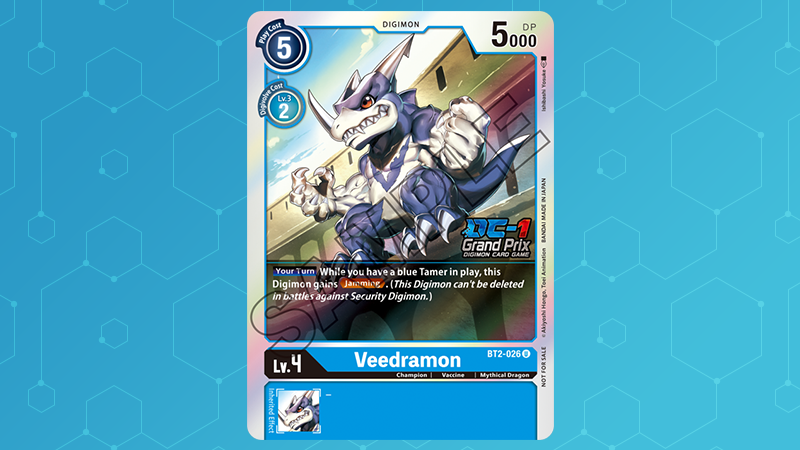 9th-32nd Place: 1 AeroVeedramon DC-1 logo Promo Card e 1 Veedramon DC-1 logo Promo Card each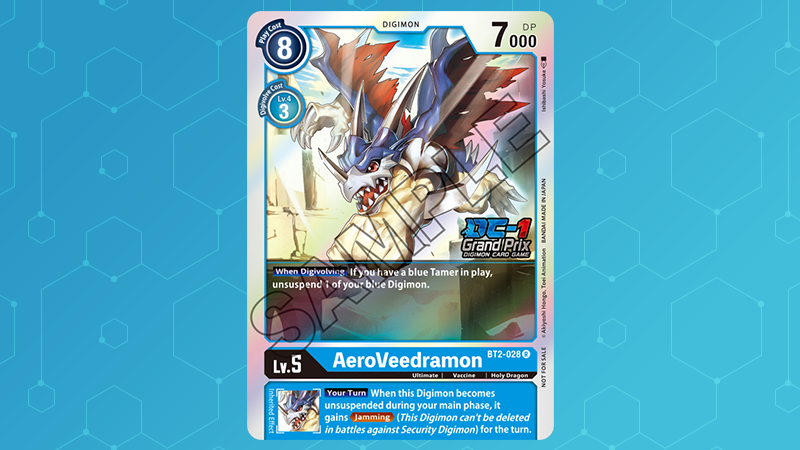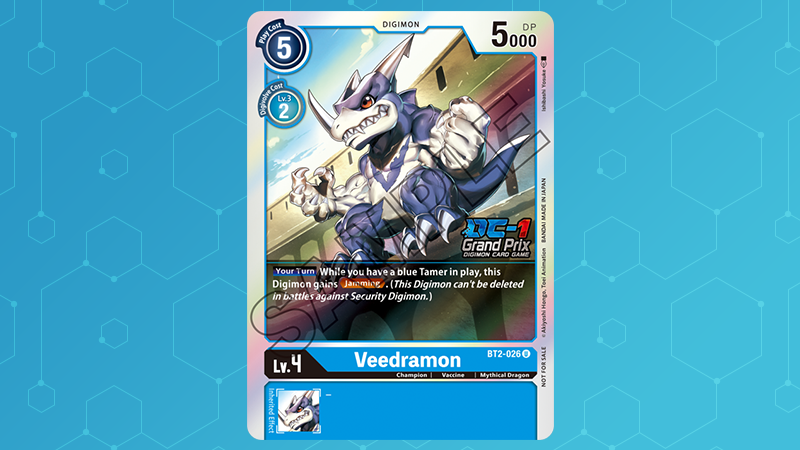 1st-8th Place: 1 UlforceVeedramon DC-1 logo Promo Card, 1 AeroVeedramon DC-1 logo Promo Card e 1 Veedramon DC-1 logo Promo Card each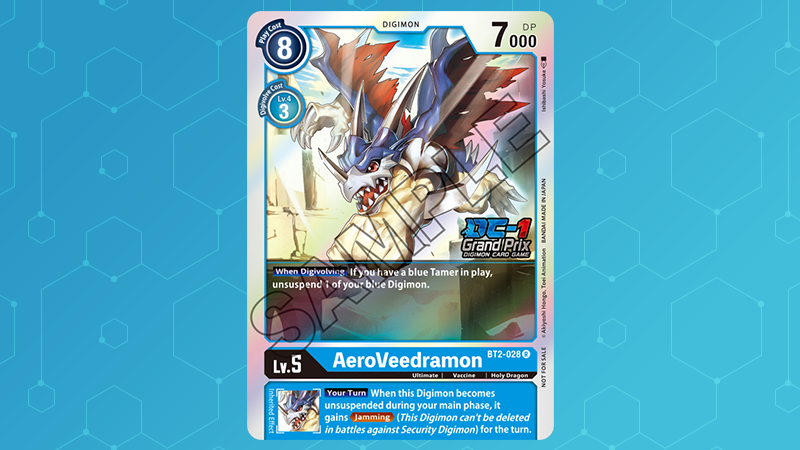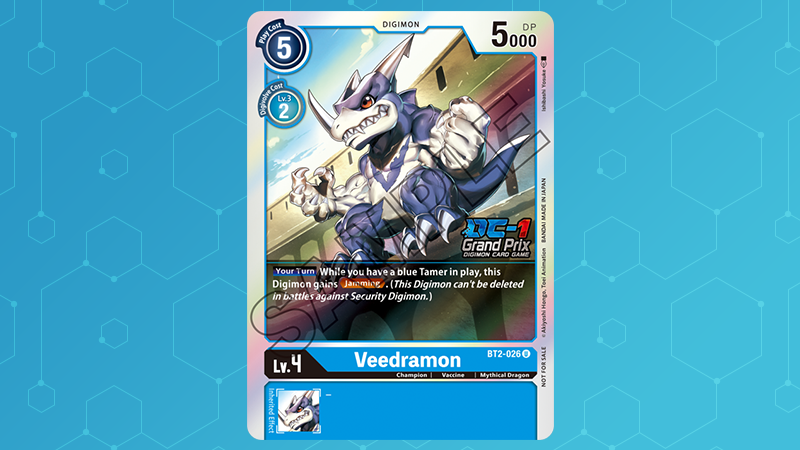 Organizers List
| Date | Format | Location | Address | Region | | | | |
| --- | --- | --- | --- | --- | --- | --- | --- | --- |
| 10/31/2021 9:30 | Constructed | Online Tournament | Online Tournament Web Web (an) | Marche | | Contact | | |
Pre-Registered Players
| N# | Pre-reg. Date | Play ID | Player |
| --- | --- | --- | --- |
| 1 | 9/7/2021 2:25:59 PM | 5900006540 | *********** |
| 2 | 9/7/2021 2:54:35 PM | 7100006542 | Linh Nguyen |
| 3 | 9/7/2021 6:53:50 PM | 4300006549 | *********** |
| 4 | 9/7/2021 9:53:50 PM | 2600006556 | Henrik Illikainen |
| 5 | 9/7/2021 10:05:34 PM | 3200006557 | Jonathan Lo |
| 6 | 9/7/2021 10:38:47 PM | 4800006558 | Kevin Richardson |
| 7 | 9/8/2021 12:31:19 AM | 8700006561 | Tim Volk |
| 8 | 9/8/2021 12:33:49 AM | 1500006564 | *********** |
| 9 | 9/8/2021 12:41:51 AM | 9300006562 | Toni Schwarze |
| 10 | 9/8/2021 12:50:16 AM | 0900006563 | *********** |
| 11 | 9/8/2021 1:26:20 AM | 9800006571 | Tom Menzel |
| 12 | 9/8/2021 1:35:00 AM | 6500006569 | *********** |
| 13 | 9/8/2021 2:49:21 AM | 1000006573 | Ithiel Arki |
| 14 | 9/8/2021 7:35:41 AM | 6000006578 | Stefan Barbulovic |
| 15 | 9/8/2021 8:13:40 AM | 7600006579 | Steffen Faust |
| 16 | 9/8/2021 8:23:02 AM | 4800006576 | *********** |
| 17 | 9/8/2021 8:30:42 AM | 5900006568 | René Eckermann |
| 18 | 9/8/2021 8:40:50 AM | 7100006560 | Duc Viet Dao |
| 19 | 9/8/2021 8:45:05 AM | 3700006584 | Mika Dreyer |
| 20 | 9/8/2021 8:46:30 AM | 9300006580 | Dominik Schmit |
| 21 | 9/8/2021 8:52:22 AM | 2100006583 | *********** |
| 22 | 9/8/2021 9:01:04 AM | 4300006585 | Mike Bitsch |
| 23 | 9/8/2021 9:07:37 AM | 5900006586 | Gino Oom |
| 24 | 9/8/2021 9:14:13 AM | 1500006582 | *********** |
| 25 | 9/8/2021 9:19:04 AM | 6500006587 | Viktor Vida |
| 26 | 9/8/2021 9:52:16 AM | 0400006590 | *********** |
| 27 | 9/8/2021 9:58:54 AM | 1000006591 | Josef Schlosser |
| 28 | 9/8/2021 10:01:17 AM | 3200006593 | Yam Sason |
| 29 | 9/8/2021 10:19:09 AM | 6000006596 | Tran Thanh |
| 30 | 9/8/2021 11:15:31 AM | 7600006597 | Ieva Kniežait? |
| 31 | 9/12/2021 9:07:25 AM | 0100006655 | Aaron Percival |
| 32 | 9/12/2021 9:07:34 AM | 4500006631 | Megan Mills |
| 33 | 9/12/2021 9:08:28 AM | 6700006615 | *********** |
| 34 | 9/12/2021 9:08:59 AM | 3900006658 | *********** |
| 35 | 9/12/2021 9:11:31 AM | 7800006661 | Jonas Baun |
| 36 | 9/12/2021 9:12:38 AM | 1200006601 | Sinan Günlü |
| 37 | 9/12/2021 9:14:39 AM | 8200006552 | *********** |
| 38 | 9/12/2021 9:14:52 AM | 2800006602 | *********** |
| 39 | 9/12/2021 9:15:11 AM | 2800006666 | Emma Leach |
| 40 | 9/12/2021 9:15:37 AM | 6700006633 | *********** |
| 41 | 9/12/2021 9:16:08 AM | 3400006667 | Gilbert Mclaughlin |
| 42 | 9/12/2021 9:17:28 AM | 5600006669 | Sam Golding |
| 43 | 9/12/2021 9:26:12 AM | 8900006671 | Arthur Milligan |
| 44 | 9/12/2021 9:34:27 AM | 0100006673 | Andy Simpson |
| 45 | 9/12/2021 9:35:09 AM | 2300006675 | Vladislav Tkacenko |
| 46 | 9/12/2021 9:43:59 AM | 4500006677 | Hari Briggs |
| 47 | 9/12/2021 9:49:32 AM | 3900006676 | *********** |
| 48 | 9/12/2021 9:53:14 AM | 1700006674 | *********** |
| 49 | 9/12/2021 9:55:50 AM | 9000006663 | Charlie Scott Scott |
| 50 | 9/12/2021 9:57:11 AM | 6700006679 | Axl Bell |
| 51 | 9/12/2021 10:02:29 AM | 0600006682 | Kurt Connor |
| 52 | 9/12/2021 10:02:34 AM | 1200006683 | *********** |
| 53 | 9/12/2021 10:03:53 AM | 5100006614 | Sebastian Bauer |
| 54 | 9/12/2021 10:09:59 AM | 2800006684 | Joshua Oosters |
| 55 | 9/12/2021 10:14:55 AM | 6200006688 | Matthew Craig |
| 56 | 9/12/2021 10:32:50 AM | 0100006691 | Ross Wild |
| 57 | 9/12/2021 10:37:47 AM | 2300006693 | Graeme Docherty |
| 58 | 9/12/2021 10:44:01 AM | 7800006689 | Christian Chavarria |
| 59 | 9/12/2021 10:47:06 AM | 4500006695 | Mathijs Giltjes |
| 60 | 9/12/2021 10:48:28 AM | 6200006606 | Alexander Lopez |
| 61 | 9/12/2021 10:51:09 AM | 3900006694 | Matthew Shafik Shafik |
| 62 | 9/12/2021 10:52:23 AM | 5100006696 | *********** |
| 63 | 9/12/2021 11:20:03 AM | 8900006699 | Paulo Moreira |
| 64 | 9/12/2021 11:41:01 AM | 1700006700 | Jordan Wells |
| 65 | 9/12/2021 11:56:08 AM | 0300006701 | *********** |
| 66 | 9/12/2021 11:58:09 AM | 1900006702 | Gabriel Bergmann |
| 67 | 9/12/2021 12:09:41 PM | 0600006600 | *********** |
| 68 | 9/12/2021 12:10:11 PM | 2500006703 | Christos Krokos |
| 69 | 9/12/2021 12:30:24 PM | 5300006706 | *********** |
| 70 | 9/12/2021 12:38:37 PM | 4700006705 | *********** |
| 71 | 9/12/2021 1:30:31 PM | 6900006707 | Panayiotis Valadakis |
| 72 | 9/12/2021 3:12:05 PM | 8100006709 | *********** |
| 73 | 9/12/2021 4:47:53 PM | 3600006713 | Sam Lincoln |
| 74 | 9/12/2021 5:09:31 PM | 5800006715 | Christoforos Gouloumis |
| 75 | 9/12/2021 6:03:56 PM | 2300006639 | *********** |
| 76 | 9/12/2021 7:31:03 PM | 7000006717 | Pedro Alves |
| 77 | 9/13/2021 9:34:23 AM | 6900006725 | Aivaras Jusys |
| 78 | 9/13/2021 10:06:07 AM | 2300006657 | *********** |
| 79 | 9/13/2021 10:09:15 AM | 1700006656 | *********** |
| 80 | 9/13/2021 10:13:06 AM | 6200006660 | Syed Baquer |
| 81 | 9/13/2021 11:53:53 AM | 8400006644 | *********** |
| 82 | 9/13/2021 12:52:48 PM | 7300006634 | Aaron Othmane |
| 83 | 9/13/2021 12:53:30 PM | 2300006611 | Chris Bastin |
| 84 | 9/13/2021 1:46:38 PM | 8400006662 | *********** |
| 85 | 9/13/2021 2:52:28 PM | 3600006731 | Kieffer Pascal |
| 86 | 9/13/2021 3:43:50 PM | 3400006649 | Victor Zhang |
| 87 | 9/13/2021 4:44:40 PM | 5800006733 | *********** |
| 88 | 9/13/2021 7:30:04 PM | 7000006735 | *********** |
| 89 | 9/14/2021 5:14:56 PM | 0900006581 | *********** |
| 90 | 9/14/2021 6:58:54 PM | 0600006628 | *********** |
| 91 | 9/16/2021 2:11:54 PM | 6000006550 | *********** |
| 92 | 9/17/2021 5:05:13 PM | 4500006659 | *********** |
| 93 | 9/17/2021 10:22:56 PM | 2000006758 | Newton Rocha |
| 94 | 9/18/2021 1:00:39 PM | 3100006740 | Tzem Besim |
| 95 | 9/19/2021 8:57:58 AM | 4700006769 | Can Gm_td |
| 96 | 9/19/2021 1:49:08 PM | 6400006770 | *********** |
| 97 | 9/19/2021 3:33:25 PM | 3600006777 | Dominick Grodkowski |
| 98 | 9/19/2021 10:43:37 PM | 0300006783 | *********** |
| 99 | 9/20/2021 8:00:13 AM | 1400006739 | Yuna Maynard |
| 100 | 9/20/2021 6:24:20 PM | 5300006788 | *********** |
| 101 | 9/21/2021 4:31:44 PM | 1900006766 | *********** |
| 102 | 9/22/2021 4:47:15 PM | 7800006625 | *********** |